Politics
Labour MP Tears Into Jeremy Corbyn Over Failure To Apologise For Anti-Semitism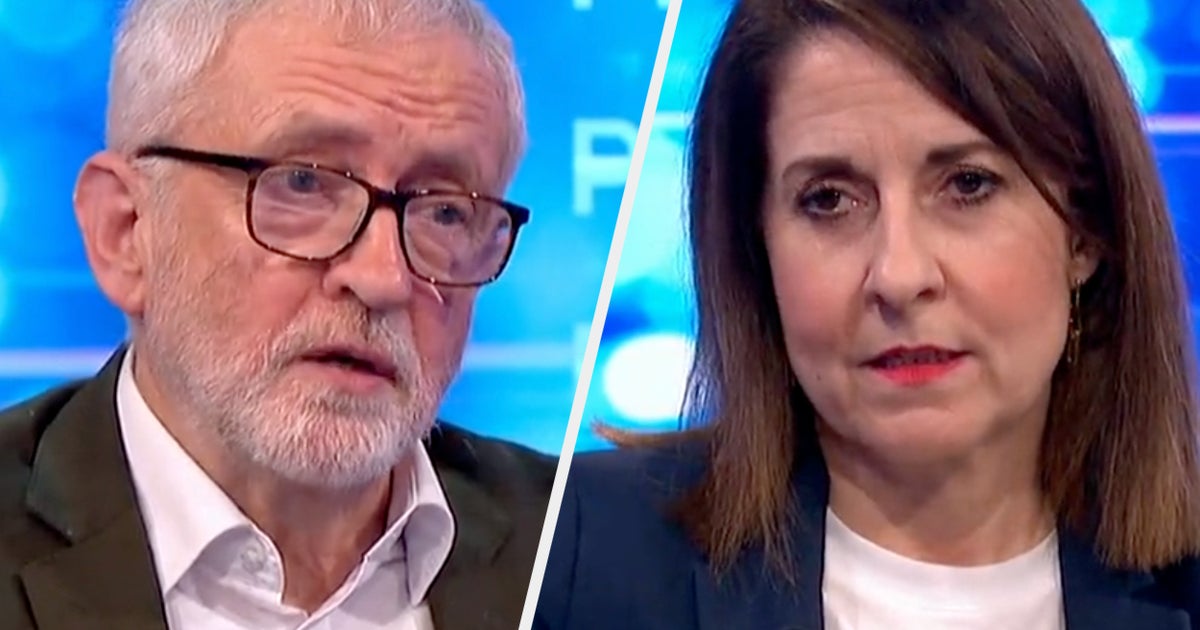 A Labour MP has told Jeremy Corbyn he "only has himself to blame" for his continued suspension from the party whip.
Liz Kendall repeatedly clashed with the former leader, who currently sits as an independent MP in the Commons, over his handling of anti-Semitism while he was party leader.
There have been question marks over Corbyn's future ever since he lost the party whip in 2020 following his response to the Equality and Human Rights Commission's (EHRC) report into anti-Semitism in the party.
He said the problem had been "dramatically overstated for political reasons".
Kendall, the shadow minister for social care who also ran in the 2015 leadership contest, accused Corbyn of failing to offer a "full and frank apology" for the crisis.
Asked whether the whip should be restored to Corbyn, Kendall told Robert Peston on ITV: "No, and I'm afraid Jeremy only has himself to blame for the situation he's in, because of his failure to apologise for what happened in the Labour Party when he was leader on anti-Semitism."
Pressed on what kind of apology she would like to see, Kendall replied: "A full and frank apology, which has never happened."
Responding to Kendall, Corbyn said he had "explained many times and apologised many times for the situation that happened in the party".
He said he "accepted" the EHRC report's findings and cited a separate inquiry by Martin Forde QC which "indicated that everything I'd said about scale — evil as anti-Semitism is — the scale of it within the party was grossly exaggerated".
"People who think that the problem was exaggerated are actually part of the problem themselves," Kendall responded.
Corbyn fired back: "As you well know, I've never said anti-Semitism as an evil was exaggerated — I've said the numbers of cases were exaggerated."
The EHRC investigation found that Labour was responsible for unlawful acts of harassment and discrimination while Corbyn was at the helm, and identified "serious failings in the Labour Party leadership in addressing anti-Semitism and an inadequate process for handling anti-Semitism complaints".
In the aftermath, Corbyn said that while he accepted there was evidence of anti-Semitism, he also believed the scale of the problem had been "dramatically overstated" by his political opponents.
His refusal to row back on that statement is seen as the main barrier to regaining the whip and sitting once again as a Labour MP in the Commons or standing for the party at the next election.
Last April, Labour leader Keir Starmer said it was "difficult" to see how Corbyn could have the Labour whip restored, citing remarks he had also made about disbanding Nato.
"It is very difficult to see how that situation can now be resolved," Starmer said.
"He lost the whip because of his response to the Equalities and Human Rights Commission in relation to anti-Semitism but I made it very clear, the first thing I said as party leader was that I was going to tear out anti-Semitism by its roots in our party.
"I've also made it clear that our position in the Labour Party is not to accept the false equivalence between Russian aggression and the acts of Nato."
The unlikelihood of Corbyn having the whip reinstated has led to rumours that he could contest his seat as an independent for Islington North — a seat he has held since 1983 — at the next general election.