Politics
The Jerry Springer Show Exploited Black, Trans And Poor Experiences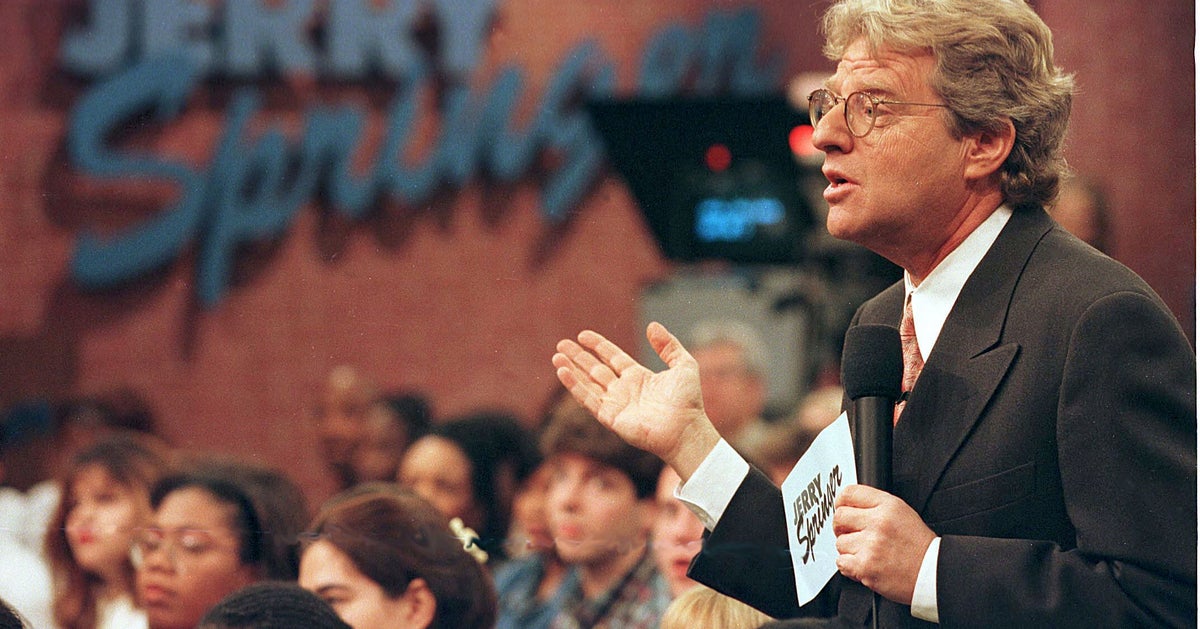 It's always more than a little uncomfortable when a divisive public figure dies and so many obituaries and tributes emerge that go out of their way to avoid a pretty glaring truth. This came to mind after politician-turned-talk show host Jerry Springer died last week.
If you were around during his heyday in the '90s, you're well familiar with the barrage of wig-pulling, name-calling, fist-throwing and bleeped-out profanity from real people seated on TV stages in front of live audiences. By the end of the decade, The Jerry Springer Show was the source of a lot of that, and it held the morbid interest of nearly 7 million people daily.
The show also routinely perpetuated harmful stereotypes about some of the most vulnerable populations in the US — chiefly, poor, Black and transgender people. And that truth is just as much a part of Springer's story as his well-documented ringleader role at the dawn of debased daytime television, which included contemporaries like The Jenny Jones Show and Maury.
It's easy to look back and consider something that many already understood at the time: Springer helped popularize sensationalized, conflict-based entertainment for his own gain. But it's more troubling now to reflect on the issues that viewers either didn't see or disregarded throughout the '90s — like Black mental health, transphobia and racism.
If you go down a YouTube spiral, clips from The Jerry Springer Show become more and more disturbing. Young Black female guests scream at each other over a romantic partner. Men talk about leaving a bowl of food on the floor for their mystery "trailer park queen". Black people get surprised on stage by Ku Klux Klan members, contriving the ultimate drama for viewers.
And trans people come out on live television while declaring their love for a friend, only to be met with open disdain from both their crush and the perpetually unruly live audience.
This was all happening amid tumultuous race relations following Los Angeles' civil unrest in 1992 and drastically reduced federal aid for impoverished people. Hate crimes and other targeted violence, like the 1998 murder of gay 21-year-old Matthew Shepard, also ripped across the nation, and news outlets continued to do their part to reinforce negative images of Black people.
The Jerry Springer Show began as an issue-based talk show in 1991, before quickly devolving into a program that made no effort to mediate or understand urgent social topics. Rather, it mocked the people that these impacted most.
"It seemed very much like it was for the entertainment of the middle-class white majority," said Veronica McComb, a professor of history and social sciences at Rhode Island's Bryant University.
But it was framed as a show for everyone and certainly had an outsize viewership, which included Black audiences. A lot of that, McComb explained, came down to a greater appetite for real stories about Black people — which was, in turn, distorted by the biased agenda of the largely white media.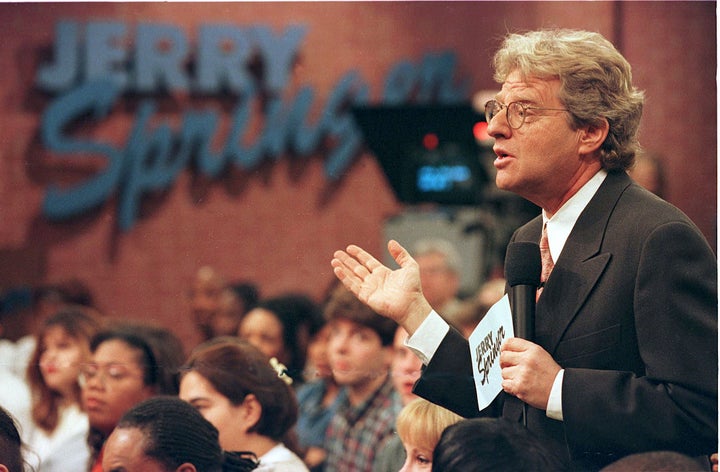 "The real height of American entertainment in the '90s, coupled very closely with race riots that are happening across the country," McComb said, "gives this intrigue of what's happening in Black America that I think Jerry Springer capitalised on."
That's an understatement. A single-dimensional narrative of Black violence had begun to dominate the nightly news, giving programs like The Jerry Springer Show more ammunition.
"You have a television show that brings that onto the stage, so to speak, and then presents it as reality," McComb added, "which then feeds into the white imagination of and reinforcing of the historical notion that Black people are inherently violent or incapable of rational choices."
The "reality" part of it all marks an important distinction. At the time, scripted shows like The Fresh Prince of Bel-Air, Martin and Living Single humanised the Black experience far more deftly. But The Jerry Springer Show purported to present actual stories about Black people that you couldn't find in traditional small-screen programming.
This isn't to say that the show didn't have entertainment value, or that its producers and Springer should have catered to the respectability politics of how Black folks would come across to racist white audiences. It's that it never provoked any thought or questions at all, by design.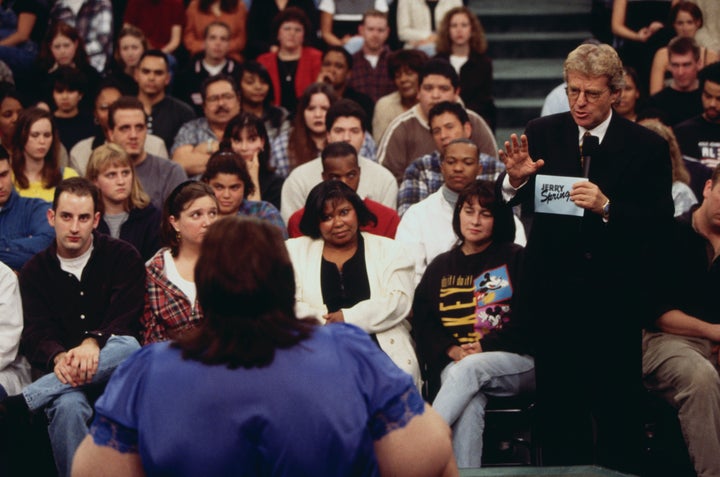 And that was increasingly necessary in an era plagued by myriad unchecked social issues that influenced viewers across the country. This not only includes the treatment of Black people but trans and queer people, who were prone to intense derision and hate when they came out on shows like Springer's.
Their appearances on the program didn't inspire conversation or a desire to learn. This was a time when, at best, viewers were unable to articulate their feelings around queer people. At worst, people reacted with violence. And you saw a mix of these responses from the live audience.
Bryan Adamson, a professor of law at Ohio's Case Western Reserve University, remembers this all too well. He recalled the use of "gay panic" justifications for excusing violence after undesired same-gender sexual advances. Though there have been some strides in banning this as a legal defense, in the '90s it thrived.
"There was always some type of twist to either head up the audience or certainly to head up the guest, right?" Adamson said. "That was the trick."
This was all at the expense of the most vulnerable parties on the stage, whose identities and experiences were never more than a spectacle for audiences offering verbal abuse and ridicule. The issues at hand remained undiscussed and even unacknowledged.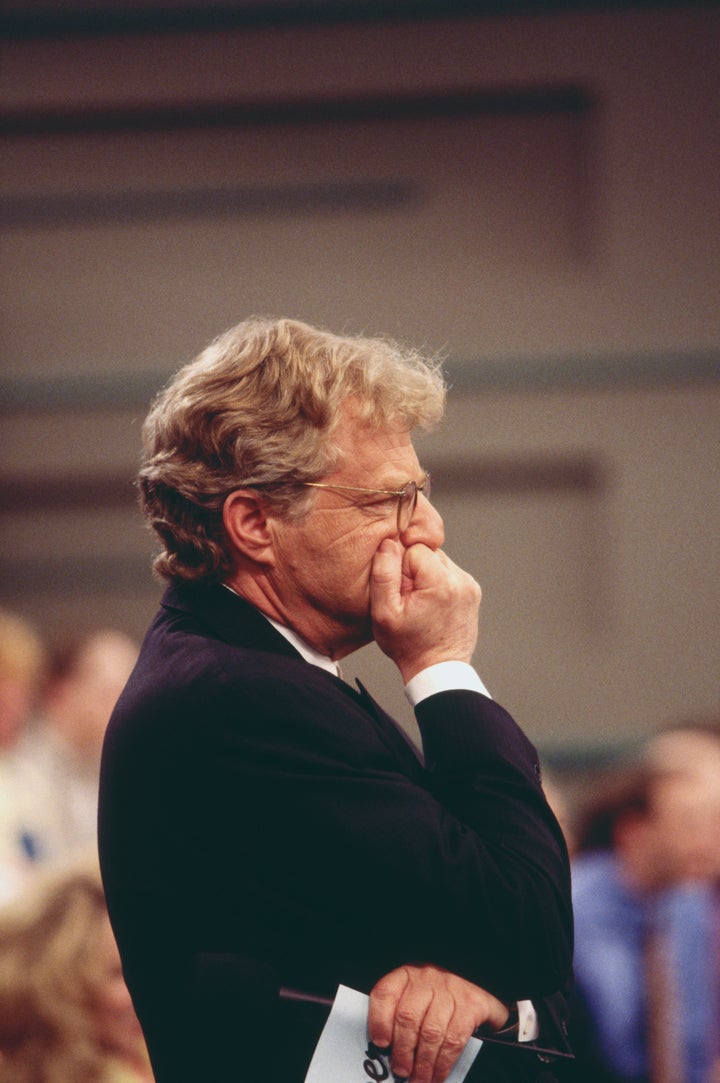 "Sexuality, homosexuality, certainly trans issues — none of that," Adamson said. "They're basically on there to be mocked and scorned, or at least that's the angle that's taken. It's become more and more distressing as I think about it."
Springer may not have blatantly encouraged these sentiments, but he certainly understood how to stir the live crowd and create the most entertaining moments from audience members.
McComb likened the host's halfhearted "final thought" that ended each episode to the narrator of a classic story guiding the reader as a moral authority.
"It's almost as if Springer's doing the same, but without people realising that they're watching theatre — watching drama, not reality," she said. "This is him being his own form of Mister Rogers for an adult audience that should know better but, given its time, doesn't obviously."
The focus on entertainment should have always been a concern, since Jerry Springer guests often belonged to groups that were poorly represented by mainstream news outlets — groups that desperately needed to be heard.
Instead, guests were met with what Adamson called "carnival barkers" — those in the audience who couldn't wait to hit them with metaphorical "slings and arrows".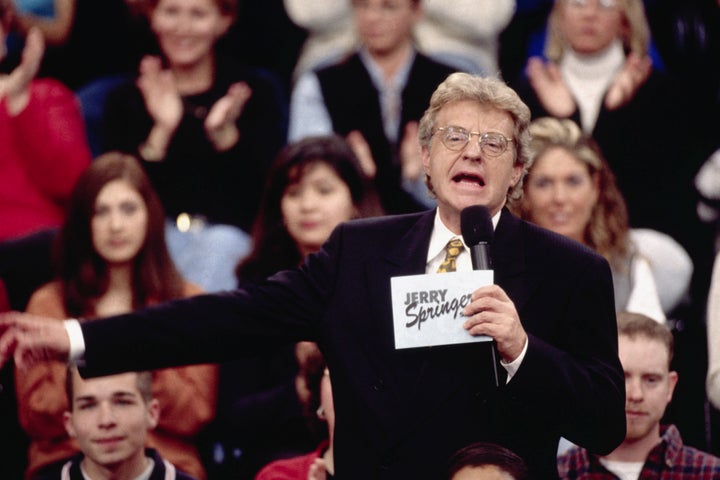 "It was that catharsis that perhaps audiences were attracted to," Adamson said. "It problematizes it even more when you have that type of audience that participates. And that audience in some ways is an extension of the audience members sitting at home."
These are the same ones that had been fed a steady diet of tropes from the news media at the time.
He noted that Springer and his producers would argue that the show was "just entertainment" or that it wasn't their responsibility to act as moral arbiters or advocates for a cause. As true as that was, Springer did, in fact, cast himself in such a role, and then proceeded to interfere in actual people's lives to exploit social issues for ratings.
"It makes me think about who's doing the watching and what do they do with the issues," Adamson said. "The concern from this show should always be: What are we taking away about how we understand a group of people to be?"
Were Springer and his ilk ever curious about this? It seems unlikely.