Tech
Intel tried selling software before. Can it succeed now?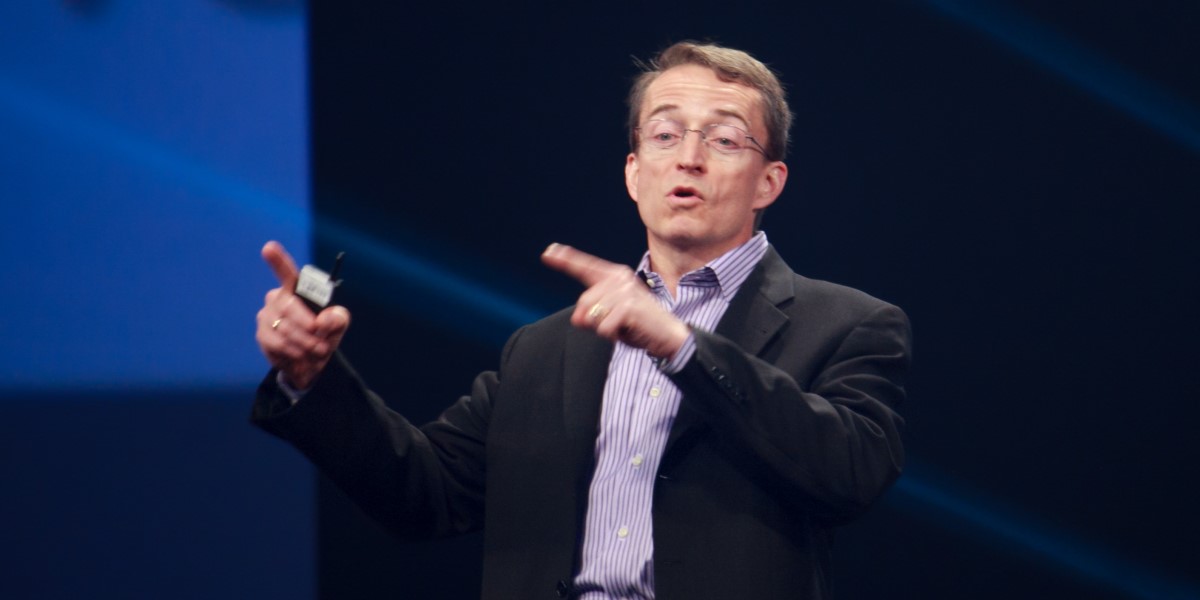 Analysis Intel is in the midst of a massive effort to rekindle its chipmaking machine, in addition to building a business out of selling software for the second time in less than a decade.
For the past several months, Intel CEO Pat Gelsinger has not been shy about the company's software revenue ambitions. The CEO reportedly lamented in May about Intel's missed opportunity to monetize many of its technologies that became foundational to cloud computing.
The chipmaker made north of $100 million in software revenue last year, and Gelsinger wants to grow that by 50 percent this year through wares that have either been developed internally or gained through acquisitions. He has made it clear he wants to make even more software acquisitions in the future, with a focus on companies that have software-as-a-service offerings.
These dollar figures may be small compared to Intel's roughly $70 billion in annual revenue, but Gelsinger believes commercial software will have a "very disproportional business benefit" by making the company's chips and hardware platforms more attractive.
To some, however, Intel is stretching to create a software business as it attempts to bounce back from years of manufacturing missteps and surpass Asian chipmaking giants TSMC and Samsung with leading-edge chip technology by 2025, which Intel hopes will buoy a revitalized foundry business.
"Intel has an existential threat around its process technology, its manufacturing technology. It has to sort that out, and anything other than that is just a distraction," analyst Jay Goldberg of consulting firm D2D Advisory told The Register.
What also makes people like Goldberg skeptical is that Intel has already tried the commercial software push in recent history, and the effort lasted less than 10 years.
What went wrong with Intel's last go at commercial software
Goldberg is referring to the period when Intel owned antivirus software giant McAfee and industrial operating system vendor Wind River, its highest-profile commercial software efforts.
Intel bought McAfee in a deal valued at $7.68 billion in 2011 with the promise that it would "deeply" integrate McAfee's software with its chips to "add substantial value to our platforms." This was done when the chipmaker was waking up to the idea that security should be a higher priority, largely in light of the 2009 Operation Aurora cyberattacks against Google and other western conglomerates.
The issue, according to analyst Jack Gold, was that Intel at the time lacked direction from management, which didn't have a sense of urgency to integrate McAfee's security technologies into its chips. This, in turn, undercut the company's goal of buoying chip sales with software.
"I remember I had this frustration talking to them for two years about, 'OK, so you've got McAfee. They've got some great stuff. When does it make a difference in your chips?' And they said, 'Just hang on, it's coming, it's coming.' It was coming for forever and never got here."
The era came to an end in 2016 when Intel sold a majority stake in McAfee, which for a time went under the name "Intel Security," to private equity in a deal that valued the company at $4.2 billion.
Gold said a lack of focus is ultimately what caused Intel to falter with Wind River too.
Intel had bought the industrial software provider in 2009 for $884 million to strengthen its embedded chip business. But the problem was similar to McAfee: Wind River was a "business in and of itself" and "Intel was never really good at managing a software company," Gold said.
"A software company needs a software leader, someone who knows what to do with software. Hardware leadership is very different. It's just a different mindset," he added.
Wind River faced its own issues under Intel's stewardship. Shortly after Intel sold the industrial software slinger to private equity in 2018, Jim Douglas, who was Wind River's CEO at the time, told this reporter that the company's growth was "hamstrung" because of Intel's silicon focus:
Why Intel's new commercial software efforts could be different
It's been six years since Intel offloaded McAfee and four years since Wind River was cut loose, and yet some believe its new commercial software push could be different this time for couple of major reasons.
From a bigger picture perspective, views have changed on how components, systems, and software should be integrated and sold to businesses and other commercial end users.
Rather than leaving most of the guesswork to its partners and end users, Intel has increasingly played a bigger role in validating and optimizing systems and end-user software on its silicon over the past few years, building upon its work in compiler, firmware, and BIOS software.
"The message is that it's not enough to be a great engineer in silicon. We need to create complete solutions that support our end users," Gold said.
The other big change is last year's return of Gelsinger, who spent the first 30 years of his career at the chipmaker and then, after a few years at storage vendor EMC, served for nearly nine years as the leader of virtualization software giant VMware.
This combination of software and hardware experience at the top is complemented by Greg Lavender, who is leading Intel's newly configured Software and Advanced Technology Group. Lavender was previously Gelsinger's CTO at VMware and, before that, CTO at Citibank.
To Gold, Gelsinger and Lavender not only bring bona fide software experience to Intel but also the perspective of end users. While the two gained more context of what it was like to work with end users at VMware, Lavender himself was an end user when he was at Citibank.
"So when he looks at Intel stuff now, [Lavender] looks at it and says, 'OK, that's great. You're great engineers. You put together this great piece of whatever. Now show me how it's going to be used from the end-user perspective. Because if we can't do that, no one's going to buy the stuff anyway,'" he said.
Who's going to buy Intel's software this time?
For Intel's new adventures in commercial software, the chipmaker has decided to spread its bets across a broader range of offerings that touch its PC and datacenter divisions as well as its fledgling AI efforts. The company is hoping once again that these new moves will buoy chip sales.
"You'll see us pulling silicon differentiation through SaaS that we're making broadly available to the industry. My simple formula is silicon plus software," Gelsinger reportedly said in May.
Most of these products and services are meant for commercial organizations. The possible exception is Project Endgame, an in-development cloud gaming service that will be used to create demand for Intel's new Arc GPUs. However, there is the potential for Intel to sell Project Endgame to organizations who want to provide their own service, given that it originated from a startup that was doing this.  
But even with the commercial focus, the types of potential customers will vary, and most of the time, the focus will be on organizations that focus on providing software services and products for others.
"Their software sales are really going to be more focused on software creators as opposed to a finished product," said Gold, which is very much unlike the situation with McAfee.
For example, Intel has pitched Project Amber as a remote verification SaaS offering that aims to improve security for cloud service providers while SigOpt provides optimization software for organizations developing AI models and simulations.  
Intel also has commercial software products meant for businesses that need help optimizing and managing workloads across different types of datacenter infrastructure. This includes Cnvrg.io, a managed AI service, and Granulate, a cloud optimization service.
Lavender, head of Intel's software group, has defined these new products and services as "market-making technologies" that are built on top of the chipmaker's frameworks, tools, and libraries, which includes Intel's oneAPI unified programming model.
Using software to show off Intel's chips in new ways
To analyst Bob O'Donnell of Technalysis Research, these new commercial efforts are an extension of the software enablement work Intel has historically been known for.
"That's what they've always done well at: things that enable other people to better leverage their platform and better highlight the capabilities of the chips they design," he told us.  
For example, Intel representatives recently discussed how the company plans to use Granulate's cloud optimization software to highlight the benefits and features of Intel's processors.
What may surprise some is that Intel intends to let at least some of its commercial software products work on processors made by rivals. This includes Granulate and Cnvrg.io.
It may seem counterproductive for Intel's imperative to sell more chips, but we think this open strategy could work in the company's favor in the long run since it will allow Intel to maintain longer relationships with organizations, creating opportunities to sell new chips down the line.
The big question for now is whether Intel can convince enough organizations that these new software products are worth paying for.
"If they can prove value, then I think companies would be willing to pay for it, if there are some unique things that they are doing that make their platform better and more appealing. It's a question of how they develop those capabilities, how they define the lines, and then how they end up pricing it and bringing it to market," said O'Donnell. ®